Our School
About Us
Welburn Hall offers day and boarding places to boys and girls aged between 8-19 years who are identified as having special educational needs. There is a main school, and seperate college unit for post 16 students.
Difficulties identified by our pupils may include a physical disability, medical conditions, learning difficulties, sensory impairments, language and communication difficulties and autistic spectrum conditions. Pupils with other identified needs may be offered a place if it is agreed that they would benefit from the services provided by the school.
Pupils with a wide range of ability are accepted and a balance is maintained between pupils with different needs. We believe that all pupils benefit from the varied community which this creates.
Our pupils are drawn from the whole of North Yorkshire and places are available to those from other authorities. Pupils who live within a reasonable distance of school may be offered day places whereas those from some distance away will normally board at the school during the week, arriving Monday morning and returning home each Friday afternoon.
Transport
Transport to and from school can be provided, where appropriate, in accordance with NYCC school transport policy by approved taxi / bus companies. These may have escorts where necessary.
Boarding Flexibility
Pupils who board are able to enjoy a wide range of recreational opportunities and social outings within appropriate peer groups, for example, shopping, eating out, and sports.
Day pupils are encouraged, where practicable, to participate in some of the extended activities after school, for example, gardening club, cooking club, team training etc. Pupils may be able to stay to tea (chargable).
The conditions for attendance are agreed with parents and pupils prior to admission. Arrangements can be very flexible to suit individual needs and may sometimes combine both day and residential provision, for example boarding on certain night(s) of the week and going home on others. Provision is reviewed at least annually when changes are considered.
School Day
The school day starts at 9am to 3.30pm (slightly longer days for college students), with lunch taken between 12 noon and 1pm. Meals are provided in the school dining room and every care is taken to ensure these meet the highest standards for nutrition and quality, and suit any special dietary requirements. They are cooked daily onsite by County Catering staff. Parents of day pupils will be expected to pay for school lunches, currently £2.10 each (unless pupils qualify for free school meals). Pupils who are boarding have free meals. Pupils who part-board will receive free meals on the day(s) they board but will be required to pay for lunches / teas on days they do not stay overnight. Please contact us if you have any questions or concerns about this.
School Uniform
Pupils are expected to wear the Welburn Hall school uniform which can be bought via the TESCO uniform embroidery service. Sweatshirts or cardigans are a smart distinctive bottle green colour - proudly displaying the embroidered school logo. Underneath white polo-shirts are worn.
Click here for more Uniform Guidance.
There is no set uniform for college students.
There is also a small remaining supply of uniform (limited sizes only) available from the School Office.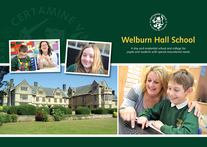 To download a copy of the latest school brochure click here.
Copies are available from the school office.